Welcome to Marine Information Services (MIS)
M.I.S. is manned by qualified personnel with decades
of experience in shipping and specializes in Greek & Cypriot Shipping Informations.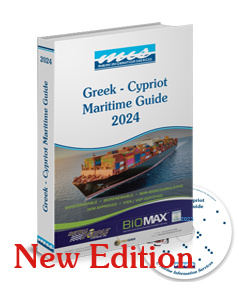 NEW EDITION of
Greek-Cypriot Maritime Guide 2024
(Availiable from 6 December 2024)

Index of Greek-Cypriot fleet
(Over 6.500 full detailed vessels/60 Fields)
Index of Companies
Operators/Manager/Agents
(Over 1.200 Greek-Cypriot Shipping Offices with full address details and Vessels under their management).
Companies connected with shipping
(Over 6.000 companies worldwide)
Greek - Cypriot Maritime Cd-Rom
Distributed
free of charge
with the
Greek-Cypriot Maritime Guide
Read more about Cd-Rom...
online Greek & Cypriot Maritime Database:
Vessels Database
Over 6.500 full detailed ships from Greek & Cypriot shipping companies.
Details for, Identity, Owners/Managers, Flag, Hull, Main & Aux Engines, Dimensions, Position, Photos etc (~60 Fields
Companies Database
Operators/Managers/Owners
Companies Connected with shipping (Brokers, Spare Parts, Suppliers, Class.Societies, Repaires, Yards etc...
Weekly & Monthly Reports
Every week we upload all change for New or Sold Ships, Newbuildings & S&P Rumours
Every months we make a summary monthly report for all changes regarding Ships/Companies/Newbuildings/S&P etc...
Statistics
Quarterly statistics reports with TOP Greek companies & Fleet statistics
TOP 200 Companies by Ships & by Dwt.
Statistics for Fleet types, YOB, Classification Societies, Flags etc...
Functionality
Mobile friendly
Quick & Advance Search
Operators link to Google Maps for directions
Make your phone calls direct from your mobile by clicking the Telephone
External links for Vessels position (AIS)
External links for Vessels Photos
Correction forms
Stock Exchange data for Shipping Companies
Global Market Data