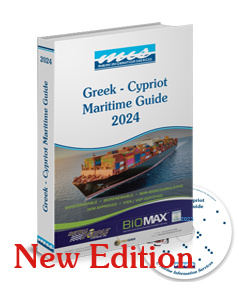 NEW EDITION of
Greek-Cypriot Maritime Guide 2024
(Available from 6 December 2023)
Index of Greek-Cypriot fleet
(Over 6.500 full detailed vessels/60 Fields)
Index of Companies
Operators/Manager/Agents
(Over 1.200 Greek-Cypriot Shipping Offices with full address details and Vessels under their management).
Companies connected with shipping
(Over 6.000 companies worldwide)


Every Subscription includes FREE OF CHARGE

12 Months Free Greek-Cypriot Maritime Cd-Rom (new version)
12 Months FREE access to On Line Database
(Make a Trial )
Weekly Newsletter Updates via Email (for one year)
12 Monthly Newsletter Updates via Email
12 Monthly Support via Email/Fax for new changes
Benefits Of
Greek-Cypriot Maritime Guide
The first Greek & Cypriot Maritime Guide
Over 6.500 Greek & Cypriot vessels under various flags.
Over 1.200 Greek & Cypriot Shipping Companies.
Over 6.000 Companies connected with shipping around the world. (Brokers,Charterers, Repairers, Spare Parts, Bunkers etc.).
Full details for each Company. (Full Style Address, Phones, Fax, Telex, Email, Web Site, Vessels)
Full technical details for each vessel (Hull & Mchy).
Alphabetical index of companies with page number for easy access to their details.
Alphabetical index of Vessels with page number for easy access to their technical details.
Cd-Rom accompanies Guide Free of Charge
Classic & Mobern ways for promotion via electronic advertisements
(Guide + Cd-Rom)
Yearly subscription at the markets lowest cost
MIS files updated daily for customer support.
Free yearly support to our subscribers via fax & email for any new change.
12 Monthly Customer Document Updates via Email.
Yearly access to On line internet database.
Cd-Rom Updates at low cost.
Distributed in Greece - Cyprus and aboard.
Complete daily search and find tool.
Free Updated Greek-Cypriot Cd-Rom
with every subscription

Index of Vessels
Index of Companies
Shipping Offices / Operators
Companies connected with Shipping
(approx 670 pages)